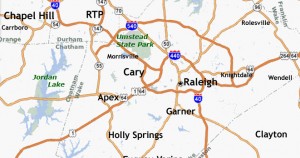 Raleigh is an exciting and bustling city, but what about the surrounding areas? There are several towns in very close proximity to Raleigh that are just as fabulous as the big city. If you're curious to see what the nearby suburbs of Raleigh have to offer, consider these towns that are definitely worth exploring.
Cary
Just west of Raleigh is the town of Cary, a delightful suburb that is noted for its safety and beautiful neighborhoods. When visiting this area, you're sure to enjoy an abundance of quality restaurants and endless shopping opportunities. For example, the Crossroads Plaza features over 60 stores and eateries. From there, you can continue your shopping ventures at the Cary Towne Center mall, which has over 130 places to shop and eat.
During the summertime, Cary is home to the North Carolina Symphony, in addition to the U.S.A. Baseball National Training Complex. So if the fine arts or sports are your thing, there is plenty for you to do and see in this exciting little area. There is also a series of greenway trails that provide residents and visitors alike with miles of room to run, bike, and take a leisurely stroll. In fact, you might like this town so much that you'll be fighting the urge to move here.
Morrisville
A little further northwest from Raleigh and adjacent to Cary is the area of Morrisville. There are all kinds of unique activities to participate in here in this town, such as the Triangle Rock Club, which is the largest indoor rock climbing facility in the Southeast. You will also find Cedar Fork District Park in Morrisville, which is home to the East Meets West Festival, a celebration of different cultures found around the globe.
Holly Springs
Thirty minutes southwest of Raleigh is Holly Springs, an area that is ideal for nature enthusiasts. Bass Lake Park and Retreat Center can be found here, where fishers can enjoy a 54-acre lake. The Holly Springs Cultural Center provides entertainment for everyone, with year-round films and concerts. On Saturdays, you can also go on a tour of the craft brew facilities in town, making for a fun weekend outing.
Garner
You'll find Garner, North Carolina, just south of Raleigh. Located 12 minutes from downtown, Garner provides citizens with exciting entertainment while still maintaining its small town charm. This area features a lot of great dining options, as well as opportunities to discover cultural arts and unique shopping venues.
Garner Performing Arts Center is a renowned community theater where you can catch productions by the Towne Players of Garner. The nearby White Deer Park is known for its beauty and delightful Groundhog Day event. During the holidays, the streets of Garner are illuminated, painting a magical scene. Garner lets no holiday go uncelebrated, making this the perfect place to enjoy with your family.
If you live in Raleigh, or are just visiting the area, be sure to check out these suburban towns. Their amenities and entertainment options will only improve your time spent in the area.
4 Towns Worth Exploring Around Raleigh
was last modified:
October 27th, 2016
by