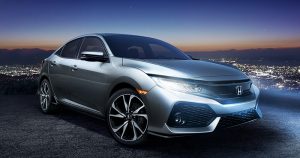 In 2017, Honda caused a stir among automotive enthusiasts and captured headlines by offering the first Civic hatchback available to buy in the United States for nearly a decade. Although the hatchback style was still present in other markets around the world, 2017 was the comeback year for the United States version. Let's take a look at why this cool car has become so popular with consumers.
Lots of Space for Everything You Need to Carry
One of the main reasons why many people like hatchbacks more than other styles of cars is the flexibility they offer. They characteristically have large trunks, and the back seats fold down down to offer even more room to work with. Those things are also true about the Honda Civic hatchback. In all, it boasts 122 cubic feet of space for people and cargo, which is 13 cubic feet more than the 2016 version of the Civic sedan.
Feel the Breeze With an Available Power Moonroof
If desired, you can get your 2017 Honda Civic hatchback with a motorized moonroof. When the weather's nice and you want to feel the breeze in your hair, just press a button to open the top. This feature is also great if you're traveling on a clear night and want to take a break to look at the stars. Simply pull over to a safe place, open the top, and relax while you gaze up at the stars.
Enjoy a Powerful, Smooth Ride
When shopping for your 2017 Honda Civic hatchback, you can pick from several trim levels. If you go with the Sport or Sport Touring versions, they have 180-horsepower engines as standard features. You'll also enjoy smooth rides even over the bumpiest roads, thanks to the fully independent multi-link suspension system.
The Autonomous Safety System Gives More Peace of Mind
You can purchase the 2017 Honda Civic hatchback with the Honda Sensing suite of driver-assistance and safety technologies. They work in the background to help alert you to things you might otherwise miss. For example, there's a feature that helps you stay in your intended lane. If you start to drift without signaling, the steering wheel can automatically make corrections so you don't veer over into the next lane.
If the vehicle's safety system thinks the conditions are such that you're about to be involved in an unavoidable crash, the technology takes action for you by applying the brakes. This feature could be especially helpful if it's able to react faster than your reflexes.
See What's Behind You With an Available Multi-Angle Rearview Camera
Backing out of a parking place or down your driveway is a little nerve wracking, especially if you're worried about not noticing something on the ground. Take care of that concern by getting your Honda Civic hatchback equipped with a multi-angle rearview camera. In addition to a normal view, it offers top-down and wide-angle perspectives.
You've just learned about some of the things that make the Honda Civic hatchback special. Get more details about it by taking a trip to the dealership soon.
5 Features of the Honda Civic Hatchback
was last modified:
March 30th, 2017
by