When the automotive world needs a hero, one manufacturer heeds the call and delivers us from mediocrity with its innovations…
Besting the competition, the 2014 Honda Accord Hybrid possesses unparalleled technology and fuel efficiency. It houses two electric motors serviced by a lithium-ion battery pack in addition to a 141-horsepower 2.0-liter four-cylinder engine. This is what Honda calls its Intelligent Multi-Mode Drive (i-MMD).
With the i-MMD, a primary 166-horsepower electric motor drives the front wheels; meanwhile, an additional electric motor acts as a fixed-ratio direct-drive continuously variable transmission – in other words, it adds power while regulating the number of RPMs to increase fuel efficiency. When you consider some of the safety features, including ABS, stability control, and multiple airbags to name a few, this car is the perfect marriage of power and control. All we need to do is throw on its cape and cowl.
It's likely that you are asking, "Hey, what about the gasoline engine? Is it just for show?"
Good question. The gasoline engine functions primarily as a generator, supplying power to the car and recharging the batteries. At speeds of 44 MPH or greater, it seamlessly engages the front wheels; when traveling uphill or accelerating, the electric motors may assist, which nets a total of 195-horsepower and 226 pound-feet of torque.
Honda's i-MMD produces unmatched fuel efficiency, topping out at 50/45 city/highway MPG. Go put on the pajamas because Honda's putting the competition to bed.
Now, Honda could have stopped there: keywords in that sentence are "could have."
The Accord Hybrid now features a lustrous blue-accented grille, perfectly curved headlights, and unique 17-inch wheels. It has stock taillights with a blue-accent, a trunk spoiler, and aerodynamic body panels. Additional features, such as a lane departure warning system, rearview camera, and premium sound package, are available to provide all of the luxurious comforts you love.
We know you're wondering where to find such an immaculate vehicle.
At AutoPark Honda, we have the 2014 Honda Accord Hybrid, as well as a vast inventory of other sedans, coupes, and SUVs to sate any preference.
What you should know about the 2014 Honda Accord Hybrid:
Engines (hp): 2.0-liter DOHC I4 (141) and a 166-horsepower electric motor (195, net)
Transmission: Continuously variable
Safety: Front airbags; side-impact airbags; side-curtain airbags; anti-lock brakes; traction control; stability control.
MPG (city/hwy) 50/45
Base price (incl. destination) $29,950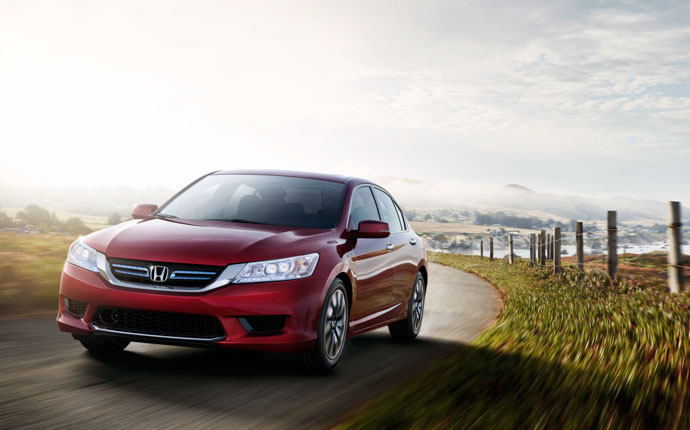 If you have any questions or comments, please do not hesitate to contact us at comments@leithmarketing.com.
Honda Tops the Competition with Its New Hybrid
was last modified:
December 11th, 2014
by