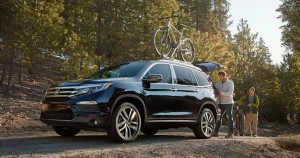 When you're ready to go camping in the woods, at the beach, or elsewhere, it helps to have a vehicle that's suited to this adventure. In thinking about the demands of a camping trip, you want a car, truck, or SUV that's reliable, spacious, and comfortable. If you're shopping for a car, take a look at the three best Hondas to take along on a camping excursion.
1. Load Up the 2016 Honda Pilot
The Honda Pilot is a crossover that's ideal for a family camping trip. Consider its ability to accommodate stuff. Tricked out with plenty of bins and storage areas, the Pilot gives passengers enough space to store personal belongings. At the same time, the cargo space maxes out at 83.9 cubic feet. On top of all that, there's a removable floor panel behind the back row to create space when all seats are full.
Another perk of the Pilot is its roomy cabin. Even passengers in the third row have ample leg space and headroom. Capable of carrying eight people, the Pilot is a great choice for a camping trip if you're taking a large group. With an ability to tow up to 5,000 pounds on all-wheel drive models, it's a vehicle that can haul some of the big toys you like to take camping. You shouldn't have trouble taking your gear to the campsite, thanks to the Pilot's powerful all-wheel drive capabilities.
2. Camping's Made Easy With the Honda Element
Though the last model was from 2011, the Honda Element remains a favorite of people who love to camp. The automaker teamed up with camper manufacturer Ursa Minor Vehicles to make available an add-on pop-up camper feature for the Element.
Even if the raised roof looks a little odd from the outside, no one enjoying the space inside the Element minds the unusual appearance. After all, this feature gives them enough room to stand up inside the vehicle. The camper package also comes with a sizeable mattress and LED lighting elements. The pop-up portion of the camper attachment has ventilated screen windows all the way around, allowing fresh air into the vehicle. You can purchase certified pre-owned 2010 and 2011 models from many Honda dealerships.
3. Take a Camping Odyssey in an Odyssey
The 2015 Honda Odyssey doesn't have the four-wheel drive you want to go off-road, but it does have attractive features for camping trips. With up to 148 cubic feet of storage space, you can cram it full of backpacks, sleeping bags, coolers, and other gear. In addition, there's an available Honda VAC package. With a built-in vacuum cleaner, you won't have to worry about the kids tracking in dried leaves, loose dirt, and other debris because it's a cinch to clean it up. Like the Pilot, the Odyssey has ample bins where passengers can hide snacks and personal items.
Regardless of whether you want a new vehicle or a certified pre-owned one, there are plenty of options from Honda that will get you to all your destinations, including the ones that are under the stars.
The 3 Best Hondas For a Camping Trip
was last modified:
August 21st, 2017
by