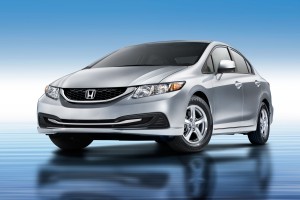 When you are well ahead of the curve, it is easy to fall victim to sloth or apathy; however, the folks at Honda aren't about to lose any vigor. With a natural gas Civic already on the road, the Japanese automaker has quite an advantage over competitors since public discourse recently began encouraging a shift to natural gas as a transportation fuel. Honda did the only thing it could think of: improve it.
The 2014 Honda Civic, set to release February 15th, is newly outfitted with some accoutrements that will surely encourage more consumers to make the switch.
Enjoy the new 7-inch touch-screen with pinch, swipe, and tap capabilities that you're likely already accustomed to if you own a smartphone. This display allows you to access audio, contacts, media, navigation, and important trip information. The system also incorporates the latest generation of the HondaLink integration for smartphones.
Naturally, safety is likely one of your concerns. Standard on this new model is an expanded-view mirror that works synergistically with LaneWatch. LaneWatch is Honda's novel camera that eliminates blind spots on the right-side of the car – a completely enhanced view of your vehicle's surroundings.
The 2014 also offers a 1.8-liter four-cylinder powertrain that produces 110 horsepower with a five-speed automatic transmission and upgraded trim, including leather seats, heated front seats, heated side mirrors, and a six-speaker sound system.
Stop by AutoPark Honda to speak with our staff regarding the availability of this model as it will only be sold in thirty-seven states.
As always, we at Leith Cars encourage you to…
Read. Re-post. Reply.
Honda Upgrades Its 2014 Natural Gas Civic
was last modified:
December 11th, 2014
by