We live in an age where vehicles have vacuums, high-definition displays, satellite television, surround sound systems, refrigerated spaces, and WiFi access. All of these creature comforts are touted to entice consumers to buy a particular brand and model. This underlines the amount of time that we spend in vehicles, considering all of the features and options that continue to saturate the market. For families, however, it takes more than bells and whistles to make a vehicle truly valuable.
High safety ratings, reliability, and ample space are all vital when parents consider a purchase. Whether their children are toddlers or teenagers, a vehicle must satisfy these characteristics while also being fun to drive. It is a sensitive balance because both parents and children need to have an enjoyable ride, and a brand will not build loyalty if either is absent. Automakers make painstaking efforts to engineer the perfect vehicle that satisfies all aspects of the driving experience.
Each year, U.S. News helps consumers determine what vehicles are most family-friendly. It is the aptly titled U.S. News Best Cars for Families, and it recognizes the cars, SUVs, and vans that best combine family-oriented features, space, safety, reliability, and strong reviews from professionals in the automotive industry. These awards give insight to a great variety of consumers by covering 19 different classes.
So why are we at AutoPark Honda interested in such a list? That's an easy answer: we made it onto the list for "Best Minivan for Families"!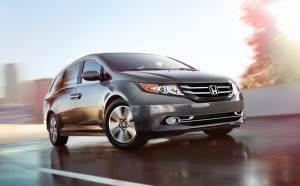 Here is what U.S. News had to say about the 2014 Honda Odyssey:
"Let's face it – almost any minivan is going to have the space, seating and available features that most families are looking for. However, the 2014 Honda Odyssey won Best Minivan for Families by going above and beyond what most minivans offer.  Not only does the Odyssey have a great reliability rating and seating for up to eight, but it also has performance that many reviewers say is the best in the class.  Available features like a cooled storage box for snacks and a built-in vacuum also put the Odyssey ahead of other minivans."
If you're in the hunt for a superior minivan that offers everything you could want in, well, a minivan, then swing by to speak with one of our enthusiastic brand specialists. Should you be in the market for a sedan, coupe, or SUV, we have an expansive inventory waiting to be discovered. We hope to see you soon.
U.S. News Releases Best Cars for Families
was last modified:
August 22nd, 2017
by